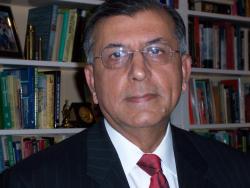 Shuja Nawaz, director of the Atlantic Council's South Asia Center, published an editorial entitled "What Pakistan Doesn't Need From America" in today's PostGlobal, a joint project of the Washington Post's David Ignatius and Newsweek's Fareed Zakaria.
The full text is provided below.

During the tumult of 2008, the talk in Washington and in Islamabad turned to the need for the United States to have a relationship with the people of Pakistan rather than with any single leader or party. Indeed, only by garnering the support of a majority of Pakistanis can the United States leap over the yawning mistrust between these two countries and help Pakistan's government become stable.
Two months into 2009, we are waiting for that change to occur. President Obama has rightly focused attention on Pakistan, sending his powerful and highly favored representative Ambassador Richard Holbrooke to take on the difficult job of resolving regional differences and restoring stability to an embattled country. Ambassador Holbrooke will need help from both Washington and Islamabad to get to the roots of regional problems.
As our forthcoming Atlantic Council Task Force Report on Pakistan stresses, Washington needs to find a way to provide a healthy dose of financial aid to Pakistan, based on a thorough discussion and agreement with Pakistan on how that aid will be used to improve the lives of people across the country and not just in the borderland near Afghanistan. Call it conditionality or "tough love", it is important to be clear about the objectives of such aid, for the financial climate in the United States will not allow any more blank checks to be issued. On its side, Pakistan has already taken many steps to assure the international financial community that it is ready to get its economic house in order. But much more needs to be done: Improving the tax administration, broadening the tax net to capture agricultural income and capital gains, strengthening the legal system to provide cover for investors, especially from abroad, and removing corruption from the highest levels of government. Too many ministerial appointments to its cabinet (which now has 83 members) are seen by the coalition's multifarious member parties as cash cows for their party coffers.
Pakistan could also end the current "cash-for-hire" scheme under which its army was sent into the Federally Administered Tribal Areas. The U.S. promised to reimburse its "non-NATO ally" for the costs of making this move, and the more than $10 billion in aid given for this purpose is often used as a political stick to beat Pakistan during any discussion of aid to that country. But the U.S. reimbursement scheme barely covers the marginal costs of the army's entry into FATA, and the political costs for Pakistan have been very high, creating a huge backlash among the population of the region as well in the rest of Pakistan. Inside the Pakistan army there is simmering resentment at all levels about the manner in which the military aid and reimbursements are handled. It would in the interest of both countries to end this scheme, and for Pakistan to truly take on the war against militancy as its own war. Then, if the U.S. is serious about helping Pakistan, it would do so by meeting Pakistan's needs for financial aid and equipment (including helicopters and training). Let Pakistan do its own job, for its own sake, not because the U.S. pays it to do so.
U.S. drone attacks inside Pakistan are a source of great unhappiness inside Pakistan. The United States needs to find a practicable way of allowing Pakistan to manage the drone operations and to take the lead in identifying and attacking militant targets inside its borders. Fears about transferring sensitive technology to Pakistan could be addressed by joint operations of drones from Pakistani bases. U.S. and Pakistani handlers could "fly" the drones carrying Pakistani markings and be responsible jointly for their upkeep. If Pakistanis call the shots on final actions against foreign militants and eliminate or limit collateral civilian damage, then they will truly be fighting their own war and not "America's War."
On the regional level, Pakistan can and should play a greater role in helping Afghanistan rebuild its military institutions. Increasing collaboration between the two armies would lead to joint operations against the insurgents, while removing the mistrust that has kept Afghans and Pakistanis from working with each other. For example, Afghanistan needs to rebuild its air force something that Pakistan has experience with: it has helped launch a number of air forces in the region. It could become a partner of the United States in speeding up the re-creation of the Afghan air force. Not only would the training be faster and cheaper than with US help alone but also the longer-term effects of close cooperation could lead to mutually understood practices and combined operations. Over time even Indian involvement in this effort could become feasible; both India and Pakistan once assisted Sri Lanka, during the early days of its insurgency.
While the Obama administration seeks to re-energize the engagement with Afghanistan and Pakistan, it will need to find new ways of making friends and helping reduce regional animosities. Throwing money at problems is one way. Changing peoples' minds about each other may be a better way of achieving peace and stability in that region.
Shuja Nawaz is Director of the South Asia Center of the Atlantic Council of the United States and a member of the Council's Task force whose report on Pakistan will be released later this month. He is the author of Crossed Swords: Pakistan, its Army, and the Wars Within (Oxford 2008) and FATA: A Most Dangerous Place (CSIS, 2009). He can be contacted at www.shujanawaz.com.